Overdraft Privilege
ATTENTION: Changes to Your Overdraft Protection— Effective Immediately
The standard overdraft practices on your checking account are as follows:
We do authorize and pay overdrafts for the following types of transactions:
• Checks and other transactions made using your checking account number
• Automatic bill payments
We do not authorize and pay overdrafts for the following types of transactions unless you OPT IN:
• ATM transactions
• Everyday debit card transactions
Due to many requests from our members, MembersFirst recently allowed members to OPT IN and take advantage of Overdraft Privilege on their Visa® Debit Card purchases. Members can choose to OPT IN online, over the phone or at a local MembersFirst Credit Union branch.
What Choosing to "OPT IN" Means
Members that choose to OPT IN to Overdraft Privilege for Visa Debit Card purchases are authorizing the credit union to authorize and pay overdrafts on their ATM and debit card transactions and charge an Overdraft Privilege Fee of $33.00 for each transaction. Members who do not OPT IN (or who OPT OUT) are choosing NOT to allow MembersFirst Credit Union to authorize and pay overdrafts on their ATM and debit card purchases.
What's Changing
If you have access to Overdraft Protection on your checking account and you attempt to make a purchase with your Visa DEBIT CARD and do NOT have sufficient funds in your checking account to cover the transaction, the system will look for available funds in all of your available overdraft accounts. If funds are available in your savings account or any other account connected in your overdraft file, the system will automatically transfer the needed funds, plus an Overdraft Transfer Fee of $7.00, to pay for the purchase. After the purchase is paid or authorized, the checking account should show a zero available balance.
If you have opted in and THERE ARE NOT SUFFICIENT FUNDS in the savings or other designated overdraft account to pay for the DEBIT CARD purchase, the system will attempt to authorize the purchase by using Overdraft Privilege and, IF you have OPTED IN TO OVERDRAFT PRIVILEGE for your VISA DEBIT CARD, with sufficient limit to authorize the purchase, the system will take the account negative and charge a $33.00 Overdraft Privilege Fee.
For tips on how to reduce fees and save more, visit our blog at membersfirstga.com/blog.
News and Offers from MembersFirst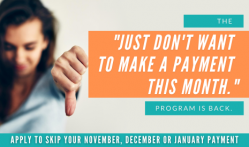 The "Just Don't Want to Make A Payment This Month" program is back!
Apply Today to Skip Your November, December or January loan payment!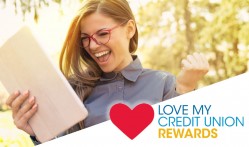 Credit Union Rewards
Love My Credit Union Rewards Offers You Great Savings on Services You Use!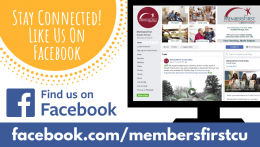 Follow Us On Facebook!
Like and follow us on Facebook for great deals and money-saving tips and tricks!