MembersFirst 55+
Financial Services with benefits designed for you
MembersFirst 55+ Savings
A MembersFirst 55 Plus Savings account is your membership account with the credit union. You must maintain a balance of at least $5 at all times to keep this account open.
MembersFirst 55+ Checking Account
A MembersFirst 55+ Checking Account pays dividends and offers you the following convenient features:
No monthly service charge
Overdraft protection from your savings account
Free stop payments
Dividends are paid when you maintain an average daily balance of $100.00
There are no per check charges- write as many checks as you want
Unlimited 24-hour access by touch tone phone with the Automated Account Information Line- check your balances, make transfers between accounts, check the checks that have cleared your account, hear automated deposits to your accounts and much more.
Checks available for purchase
Overdraft Privilege - Limit up to $700*
MembersFirst 55+ Certificates
Not only do you enjoy preferred rates on loans, but also on your Certificates of Deposit, with the following features:
Flexible maturities from three months to five years
Low minimum deposits
Competitive dividend rates
A one-time step-up rate on Certificates with a term of 2 years or longer
You are welcome to stop by any MembersFirst Credit Union branch and join today. An initial deposit of $5.00 and a valid picture ID are all you need to open your account. Once your savings account is opened, you'll have immediate access to all of the financial services offered by your credit union.
Additionally, if you participate in the Senior Spectrum program at Emory Decatur Hospital, you are eligible for membership in MembersFirst Credit Union.
*Overdraft Privilege is a discretionary service offered by MembersFirst. There is a fee associated with each overdraft allowed through Overdraft Privilege.
News and Offers from MembersFirst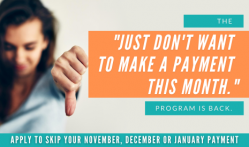 The "Just Don't Want to Make A Payment This Month" program is back!
Apply Today to Skip Your November, December or January loan payment!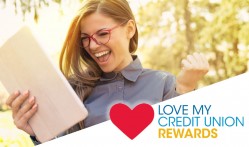 Credit Union Rewards
Love My Credit Union Rewards Offers You Great Savings on Services You Use!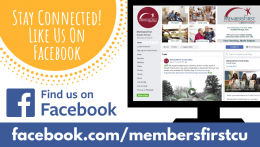 Follow Us On Facebook!
Like and follow us on Facebook for great deals and money-saving tips and tricks!