Personal Loans
Personal Loans
Sometimes you need some extra cash to pay a bill, make an emergency purchase or take a last-minute trip. At MembersFirst, we offer reasonable interest rates and quick turnaround on personal loans so that you can access the money when you need it. Get started, Apply Now.
Certificate and Share Secured Loans
Don't touch your hard-earned savings account or certificate when you need money. Instead, use your savings or certificate as collateral and apply for a certificate or share secured loan. You'll continue to receive a return on your savings while enjoying one of the best financing rates the credit union has to offer.*
Debt Reduction Loan - Save As You Pay
The Save As You Pay loan is designed especially for qualified members seeking to eliminate credit card debt while saving in a high yield savings account. Our unique Save As You Pay loan allows you to consolidate and eliminate credit card debt within 6 years and save up to 20% of the amount you borrow in a high yield savings account. Members can borrow up to $25,000.Start Cutting Debt, Save Today!

Credit Establishing Loan
Our Credit Establishing Loan is designed to help you build or improve your credit. If you have no credit or have a less than delightful credit history, the Credit Establishing loan can help you get on track. This unique loan allows you to borrow up to $2,500 with loan terms up to 18 months. Funds on this loan are not available for immediate withdrawal. As you repay your loan, you build your credit.
Holiday Loans
Holiday Loans are available in November and December. *** This convenient loan can help you build credit and is payable within 11 months. A Holiday Loan can give you a little extra spending money during the Holiday season. Holiday loans are exclusively repaid through payroll deduction, direct deposit or automatic transfers. There is a minimal processing fee for this loan.
*Certificate Secured loan rates are 2% above your current certificate rate. Please see your loan officer for details.
**APR - Annual Percentage Rate
*** Applications for Holiday Loans must be submitted on a current application form available at the credit union. Forms are accepted at a MembersFirst Branch in person or by fax. Holiday Loans are typically offered every year, however, every year a board assessment is done to determine if the program will be offered. The credit union will notify you when the loan is available.
**** All loans are subject to review by credit committee. Approval is based on individual creditworthiness and specified criteria in accordance with credit union guidelines.
News and Offers from MembersFirst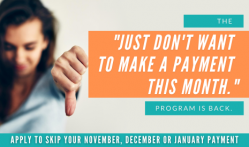 The "Just Don't Want to Make A Payment This Month" program is back!
Apply Today to Skip Your November, December or January loan payment!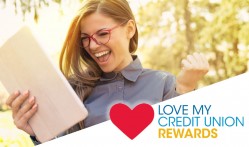 Credit Union Rewards
Love My Credit Union Rewards Offers You Great Savings on Services You Use!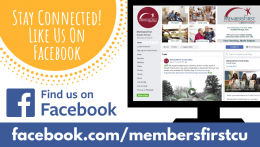 Follow Us On Facebook!
Like and follow us on Facebook for great deals and money-saving tips and tricks!