Member Perks
There are more reasons than ever to love being a member of MembersFirst Credit Union.
Your credit union membership is about the trust and care of community, built around where you live, work and play. That's why your Credit Union membership saves you money through exclusive member-only offers through our trusted partners. Through Love My Credit Union Rewards, credit union member have saved over $2 billion with offers like:
TurboTax
Credit union membership also saves you up to $15 on TurboTax federal products.
TruStage
Protecting your car and home shouldn't cost you a bundle. MembersFirst Credit Union members can save big with an exclusive discount from the TruStage Home & Auto Insurance Program.
Sprint
You get $200 in cash rewards* on up to 2 lines when you switch to Sprint. Plus, lines 3, 4 and 5 are free AND 25% off select accessories in Sprint stores.
That means savings of more than $800 over Verizon in your first year.
With Sprint's 100% satisfaction guarantee for the first 30 days, you can be certain that you'll love your plan or get your money back.
Claiming your cash rewards is easy:
Open a new Sprint account and mention that you're a credit union member.
Register your new lines at LoveMyCreditUnion.org/Fall19
Cash rewards will be deposited directly into your credit union account within six to eight weeks.
Don't miss out on hundreds in savings. Switch to Sprint and claim your rewards today!
PLEASE NOTE: This program is administered through Sprint. For questions regarding this program, TurboTax or TruStage, please contact them directly or visit lovemycreditunion.org.
Learn all about how your MembersFirst Credit Union membership gets you all these exclusive savings, and more at membersfirstga.com or LoveMyCreditUnion.org. Check them out and start enjoying credit union member benefits you never knew you had.
Cash Reward:
Via deposit. $100 per line, max 2 lines. Req. qualifying plan and registration within 30 days of activation. Loyalty Reward: Via deposit per account. Basic: After 9/30/20 pay $60 a month for line 1, $40 a month for line 2 and $20 a month per line for lines 3 thru 5, with AutoPay. Offer/coverage not available everywhere. Requires new lines of service. Subject to credit & $30 activation fee. Excludes taxes, fees, and roaming. Speed maximums, use rules and restrictions apply. Unlimited Basic compared to Verizon Start Unlimited for 5 lines, features differ.
News and Offers from MembersFirst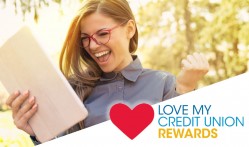 Credit Union Rewards
Love My Credit Union Rewards Offers You Great Savings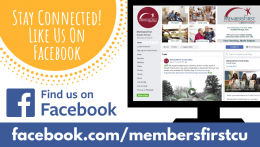 Follow Us On Facebook!
Like and follow us on Facebook for great deals and money-saving tips and tricks!
Important Information (COVID-19)
COVID-19