Member Stories
"I was telling a friend how glad I am to bank with MembersFirst. Everything is so easy, MembersFirst has it going on!"
We would like to take this time to say MembersFirst Credit Union (of Georgia) has outstanding customer service. We went in on a days notice and expressed our need to refinance our cars, and they had the right product for us. We received fast and friendly communication and great new low rates.Thanks again
Initially the credit union declined me for an auto loan so I prayed about the situation and decided to send an email as to why. I was surprised that I got a response. I really did not expect any follow up but I did want to explain why I wanted to get this loan for a new vehicle…. I never expected anyone to even respond to my email in the first place and I thought if someone did the final answer would still be that I'm denied. The loan officer was very straightforward. I am so thankful that my credit union responded and even agreed to review the loan request again… I also got some contacts to help me try to find a vehicle within my price range…I now have a newer used vehicle that is not only dependable but stylish
It's "official"...I'm a member of the "in" crowd! (it's about time) #TeamMembersFirst! I just wanted to email to personally say thank you to both of you ladies for your assistance yesterday. We are now able to assist our parents with some home improvements and my brother is on his way to rebuilding his credit. Kim, you are amazing! You were very thorough and upfront, and even offered financial advice to assist us yesterday. I appreciate your patience as well, seeing that we took up your WHOLE morning. :D Kim along with everyone in the facility was hospitable; I simply felt welcomed. Jennifer, thank you for continuously "encouraging" me to join MembersFirst. Your persistence paid off! I also appreciate you connecting me with Kim at such a short notice. We were able to get business taken care of in a swift manner! Again, thank you, thank you, thank! MembersFirst Rocks! Tanga
Thank you so much for your department's diligence in protecting your customers. This is why we still bank with MembersFirst even after we've moved out of state. Again, we truly appreciate it!
News and Offers from MembersFirst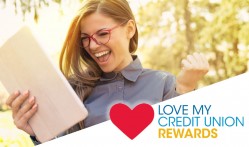 Credit Union Rewards
Love My Credit Union Rewards Offers You Great Savings on Services You Use!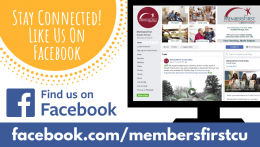 Follow Us On Facebook!
Like and follow us on Facebook for great deals and money-saving tips and tricks!
Important Information (COVID-19)
COVID-19